Impersonator Accounts
By
If you have been burned by an impersonator account, we are very sorry to hear that this happened to you.
First and foremost this is not us, we will never contact you asking for bitcoin or any money directly, as stated on our website & social media.
We sell educational courses only. We have to be very careful online when someone is approaching you, it's happened to us before and it's part of the reason we started this company in order to teach others how to trade and not fall victim to these scams.
Our team is dedicated to providing excellent customer service, and we strive for 100% satisfaction with every customer.
We report and block all scam accounts daily and constantly remind our students to be careful with these scammer/impersonator threats that continue to exist in the online space.
If you haven't already please send us the username/impersonator account url that reached out to you so that we can report and have them removed before they try to attack others.
Sincerely, Anna Macko & 2% Theory Team
Please go to instagram and see the Story Highlights where we discussed this: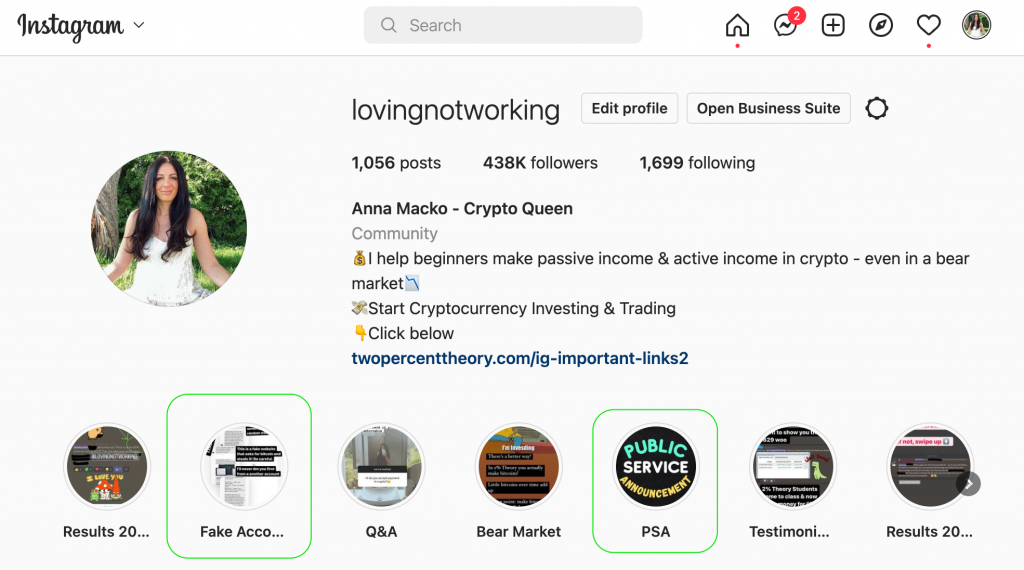 Click "Fake Accounts" or "PSA" to view all the stories about this or click this direct link https://www.instagram.com/stories/highlights/17943052361247081/
Here is a direct link to an instagram story highlight called "Official Pages" https://www.instagram.com/stories/highlights/17846837851857926/
Please check this video on youtube about whatsapp impersonator accounts get people to go on whatsapp – I am not on whatsapp nor telegram. If you are chatting to someone on text, whatsapp or any other instagram other than "LovingNotWorking" then it is not me https://www.youtube.com/watch?v=zCRTPBKM3_s
Another video I made about Facebook fake accounts – You can find my real accounts in the footer of this page https://www.youtube.com/watch?v=-pvC0B839nQ&t=5s
On Tiktok I have created Several videos warning of impersonators, here is the playlist:
https://vm.tiktok.com/ZMFYMkoDj/
Here are some of the account examples: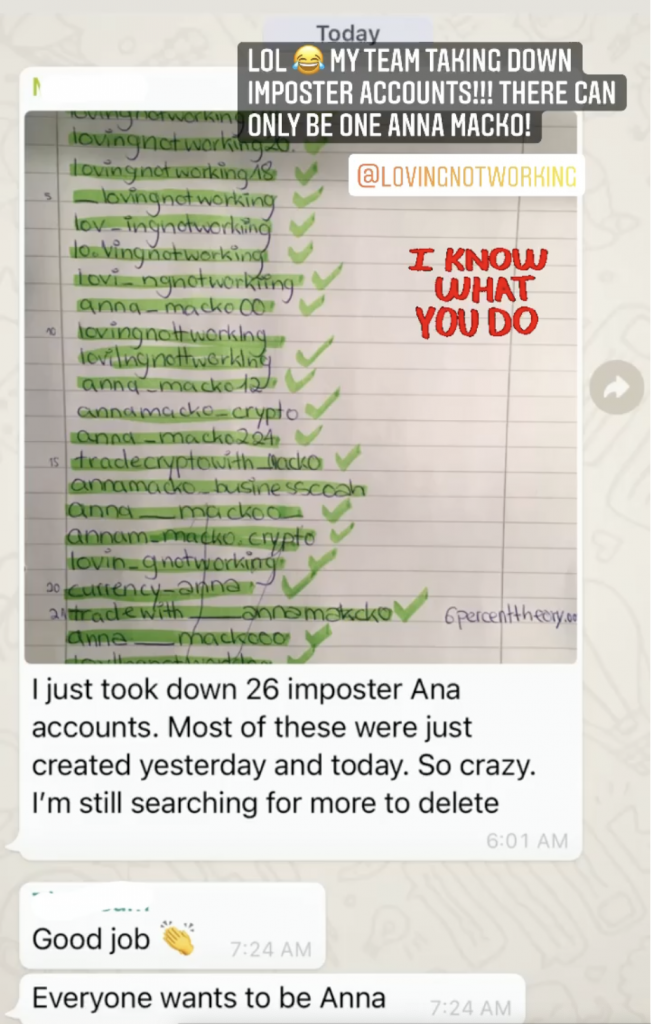 My team works very hard to take down these imposters. We report them and get them down. Unfortunately, they often get people to go on text message or whatsapp. The best way to avoid these is awareness that they exist.
Exclusive Bonus: Get My Video Training About The Most Consistent Strategy To Grow Your Digital Assets In 2022 (This is Tested & Proven By Myself & My 4,000+ Students Over The Last 9 Years)