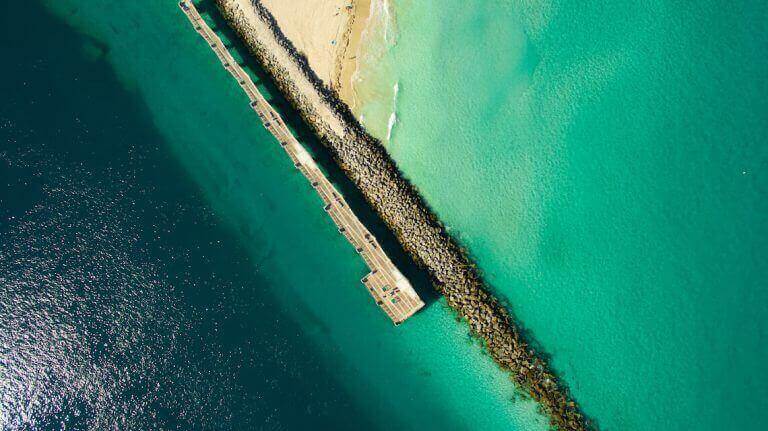 How to Exclude ip Address from Google Analytics
By
If you don't want to mess with the bounce rates or the traffic from visitors in Google Analytics, then you may want to exclude your IP address using a filter. Once you have installed Google Analytics on your website, the next step is to remove your own IP address to keep your data clean.
Why excluding your own IP address is important
When you work on your own site you probably click around. You (or your staff) are actually increasing the visitors on your site. This is not really how your website is performing so if you do have staff you will want to exclude the whole range of IP addresses.
Also, more importantly, when you check your target keyword rankings (for SEO) sometimes you may Google your keyword then look in the organic search results to check if your site is coming up for that certain keyword. Then you click BACK, Google actually measures how many times visitors click BACK, then it will add to your Bounce Rates (meaning when a user leaves your website, they Bounce). Bounce rate is an important factor for your SEO, you want to keep your bounce rate low because you want your visitors to go to other pages. The more people that click BACK to the search results, the more Google thinks that keyword is not relevant to your website. A good idea would be to exclude your own IP address for when you exit your pages yourself, you don't want it to count.
The way you do is is simple. You go into the Admin settings and create a filter to exclude traffic from the IP address. You will obviously need your IP address which I described in Step 7
Let's Begin Filtering our your IP address
1. Click next Reporting, then select your website. (If you have many websites, search for your website name) then click on your website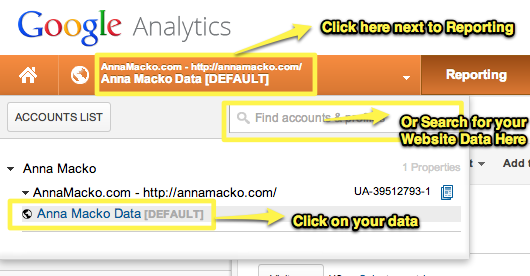 2. Click on Admin in the right corner
3. Click on your website data link as shown in the image below

4. Click on Filters (look at the image below)
5. Click on New Filters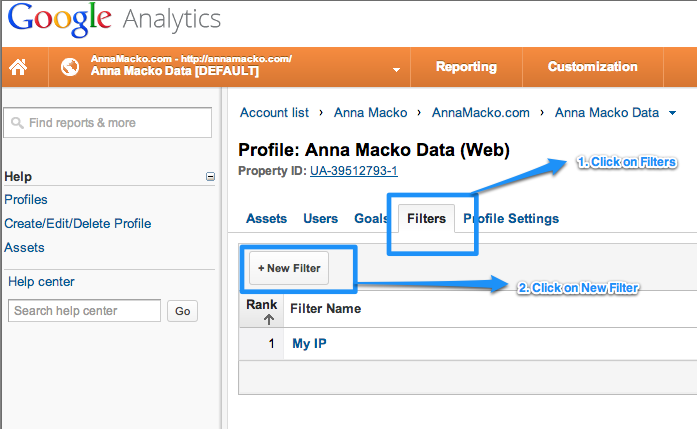 Google Analytics – Exclude ip address
Now you should be on the section in Google analytics where you can actually exclude your IP address.
6. From the drop box, make sure you select "Exclude" then select "traffic from the ip address"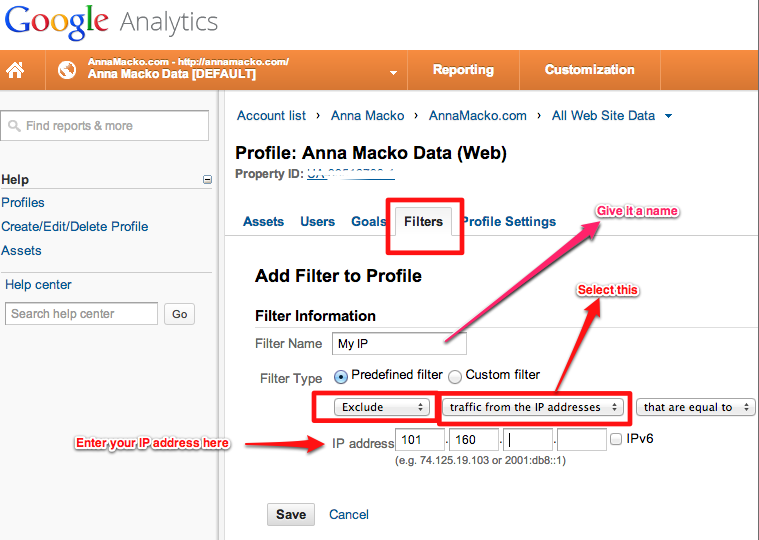 How to get your IP address
7. You will need your IP address so to find it, follow this simple step:
Go to https://whatismyipaddress.com/ (opens in a new tab)
Alternatively find your IP address on a PC in Command Line
Click on Start -> Run
The pop up will show up, type the letters: cmd
Press Enter
This will bring up the command line.
Then simply type: ipconfig
Don't type any spaces then press enter.
You should now see your IP address.
8. Now Back in the Google Analytics Page, Enter your IP address into the boxes then click "Save"
If you like this post, and find it useful, please feel free to share it 🙂
Exclusive Bonus: Get My Video Training About The Most Consistent Strategy To Grow Your Digital Assets In 2022 (This is Tested & Proven By Myself & My 4,000+ Students Over The Last 9 Years)